On International Women's Day, as Puma launches the "She Moves Us" marketing campaign while supporting Israeli apartheid, Palestinian and international women in sports respond with #SheBoycotts.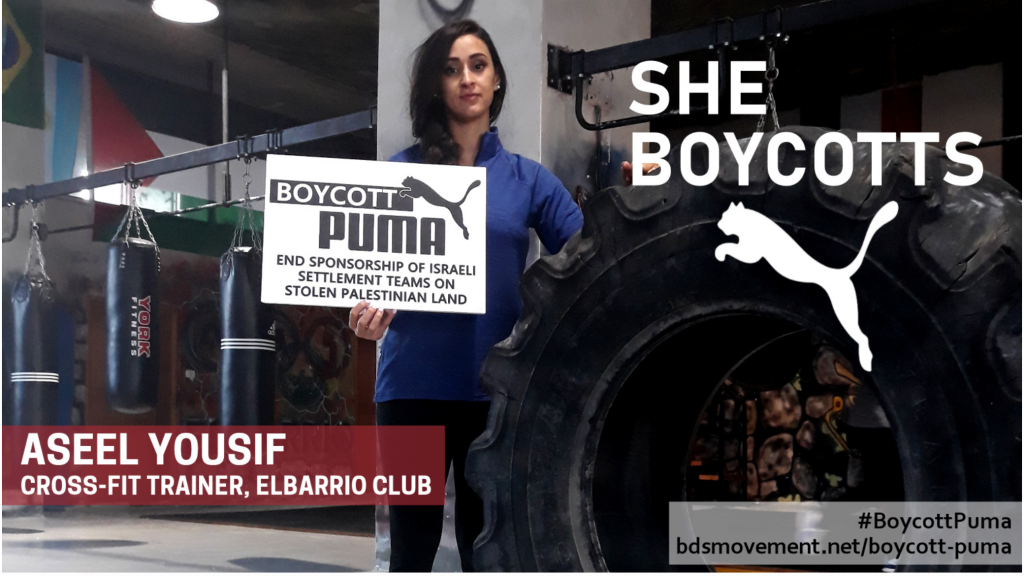 Today, International Women's Day, Puma is launching "She Moves Us," a marketing campaign to "celebrate the women who have moved culture and sports forward."
She Moves Us, but Puma supports illegal Israeli settlements forcing Palestinian women and their families from their homes. She Moves Us, but Puma supports Israel's military occupation preventing Palestinian women athletes from traveling to matches. She Moves Us, but Puma supports Israeli apartheid, including medical apartheid denying millions of Palestinians vaccines during a pandemic.
Join us in celebrating Palestinian women in sports. Share the video of Palestinian athletes, including a player from the Women's National Football Team, calling to boycott Puma until it ends support for Israeli apartheid.
Take Action: Tell Puma She Moves Us, but Puma's support for Israeli apartheid oppresses Palestinian women
Women in sports around the world are joining their Palestinian colleagues, from including a yoga instructor in France, acrobatic dancers in Italy, cyclists in the UK and running coaches in the US. They're calling on Puma to end its support for Israeli apartheid that separates Palestinian families, demolishes Palestinian homes and arrests Palestinian children from their beds during night raids. Share the video of women in sports joining #SheBoycotts.
Record your own video and share it on social media with the hashtags #SheMovesUS and #SheBoycotts. Make sure to tag @Puma