BDS Australia news, events and actions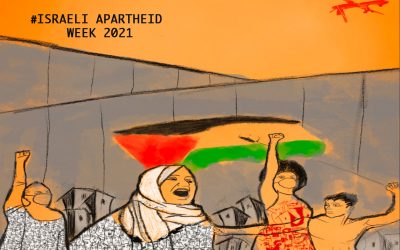 2021 Callout Racism, discrimination, xenophobia, and inequality continue to grow around the world. In recent months, we have seen how people in the Global South and people of color, political prisoners, unhoused people, migrants, and refugees, among many others, have...
Support the Global Day of Action and Boycott Puma - Worst. Gift. Ever. Israel's far-right government is escalating its expansion of illegal settlements on stolen Palestinian land. At the same time, it is demolishing Palestinian homes in record numbers,...
Take two quick actions HERE to thank Lewis Hamilton for his stand against racism and to urge him to take that stand to Puma over its support for Israeli apartheid that South Africans say is worse than what they endured. Lewis Hamilton, Formula One's first and only...
August 17, 2020 - Palestinian human rights defender and BDS coordinator Mahmoud Nawajaa was released by an Israeli military court, after 19 days of illegal detention without charges. Since his arrest on July 30, the Israeli internal security Shin Bet has failed to...
BDS Australia is pleased to host this important forum featuring Boycott Divestment and Sanctions (BDS) co founder, Omar Barghouti with key First Nations and Palestinian Australian speakers discussing the shared experience of dispossession, state-based discrimination...
"The position of the Australian Government is unprecedented. This kind of direct engagement in an international court process simply does not make sense. Why is Australia going out of its way to hold back an investigation into Palestine?"
The decision by the International Criminal Court's Prosecutor Fatou Bensouda to pursue war crimes investigations into Israel's actions against Palestinians in the Occupied West Bank including East Jerusalem and the Gaza Strip is welcomed by BDS Australia. Bensouda's...
BDS Australia condemns the recent violence against students and human rights defenders at York University in Canada. BDS Australia is a coalition of 12 Australian pro-Palestine associations, dedicated to informing and raising awareness in the Australian community in...
A presentation by the renowned Palestinian writer, scholar and commentator, Dr Abu Sitta in Sydney whose work has meticulously documented the Palestinian Nakba. What: BDS for the Right of Return - Why? When: Wednesday October 9, 6.45pm-8pm Where: Redfern Town Hall....
Wednesday 28 August - Wednesday 4 September is our first national week of action to encourage consumers face-to-face not to buy HP products (laptops, scanners, printers and ink) while HP technology underpins Israeli occupation and apartheid. All are welcome to help...
Hear Professor Richard Falk speaking in Sydney on July 4, 2019. Presented by BDS Australia and presented in conjunction with the NSW Parliamentary Friends of Palestine. 1) - Welcome and introductory comments by Sara Saleh and Hilmi Dabbagh 2) - Professor Falk's...