BDS Australia is joining groups around the world for the Global Day of Action on February 12 and regular rolling protests as we step up pressure on PUMA to ends its partnership with Israeli apartheid.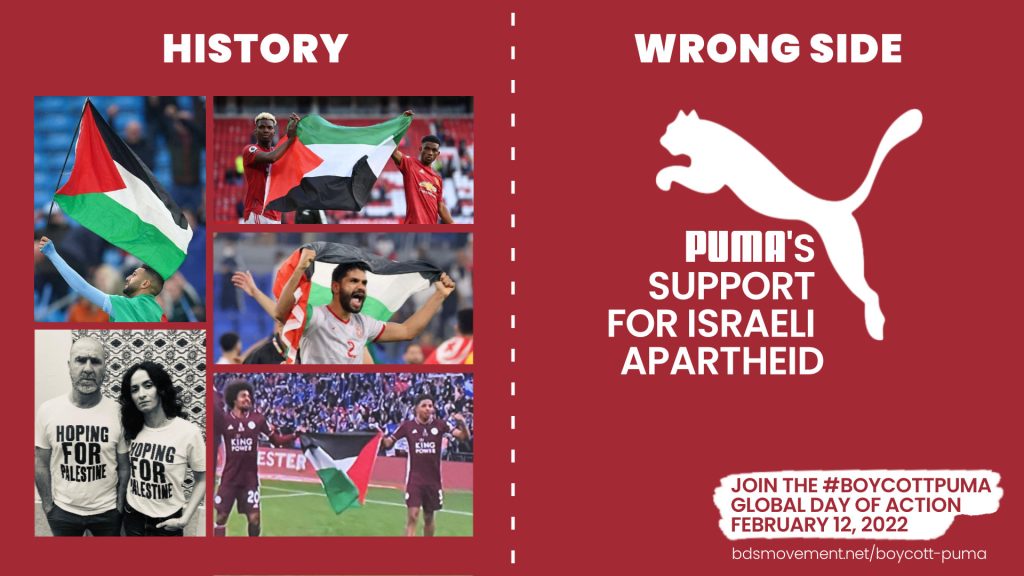 PUMA's continued support for Israeli apartheid puts it squarely on the wrong side of history.
The year 2021 saw unprecedented support for Palestinian rights across the world of sports, as apartheid Israel escalated its violent oppression of Palestinians.
In record numbers, star athletes took courageous stands in stadiums and on social media to millions of followers, including footballers Riyad Mahrez, Paul Pogba, Mohamed ELNeny, and Benjamin Mendy, cricket stars Babar Azam, Rashid Khan, and Irfan Pathan, basketball players Kyrie Irving, Damian Lillard and Layshia Clarendon, and boxing champs Amir Khan and Badou Jack, among others.
Olympic hopefuls Fethi Nourine and Mohamed Abdalrasoo renounced life-long dreams and withdrew from the games, refusing to compete with official Israeli representatives.
Teams, players, coaches and fans kept Palestinian rights front and center at the Arab Cup finals.
Let's step up the pressure and make 2022 the year PUMA ends its partnership with Israeli apartheid.
Join the Boycott PUMA Global Day of Action, February 12.
PUMA sponsors the Israel Football Association (IFA), which governs and advocates on behalf of teams in illegal Israeli settlements.
In a leaked internal memo, PUMA admitted its celebrity ambassadors and business partners are increasingly questioning its support for Israeli apartheid.
More than 120,000 people have signed the SumOfUs petition urging PUMA to "stop its complicity with the Israeli apartheid state."
A PUMA lawyer told us the #BoycottPUMA campaign is making their lives "miserable."
Let's help PUMA find its way over to the right side of history!
Join groups around the world calling on PUMA to drop the IFA.
Join rolling protests in Adelaide and Sydney – email [email protected] for details
Sign the letter to the CEOs of Athletics Australia, Carlton Football Club, Melbourne City FC, Richmond Football Club, Queensland Maroons, Melbourne Vixens and NSW Blues who are sponsored by Puma.
PUMA has a window of opportunity to live up to its progressive image and stated "devotion to universal equality." PUMA's contract with the IFA ends in June of this year. Now is the time to act to convince PUMA to cut ties with Israeli apartheid.
The #BoycottPUMA coalition, which stretches from Auckland to Oakland, is launching regular rolling protests at PUMA shops, offices, and sponsored clubs. Vibrant protests at PUMA shops have succeeded in shutting them down. Join a protest near you or organize one in your area!