August 31, 2023 / Palestinian BDS National Committee (BNC)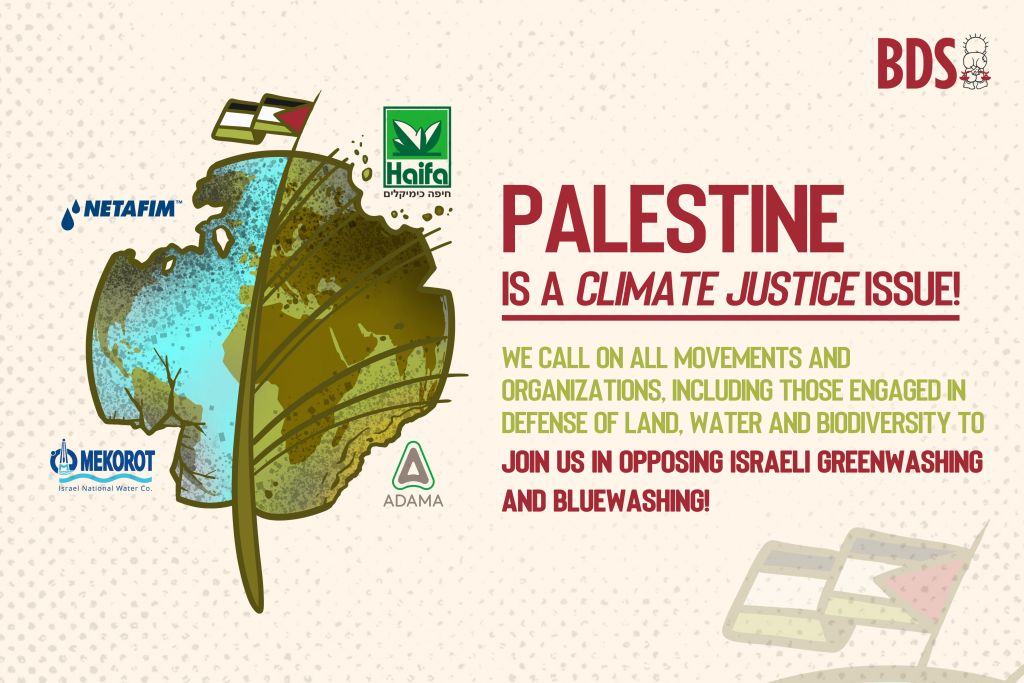 Palestine is a climate justice issue.
All over the world, grassroots groups are committed to the rights of indigenous people to land and raw materials, to sustainability, against the exploitation of farmers, against climate colonialism and the wrong solutions to combat it.
Palestine is part of these mobilizations. Apartheid Israel has been carrying out ethnic cleansing against the native Palestinians for decades, driving them from their land, villages and farms. Israeli companies like Mekorot and Netafim steal raw materials from Palestinians and funnel them into illegal colonial settlements. These same companies gloss over their crimes by posing as companies offering sustainable "solutions" around the world, when in reality these false solutions enable the privatization of resources and exploit local communities. Other Israeli companies such as Haifa Chemicals and Adama contribute to the agrotoxic destruction .
So-called "charities" like the racist and colonial Jewish National Fund are building "parks" on the ruins of ethnically cleansed Palestinian villages to hide them. And companies like Siemens and Chevron profit from the fossil gas business , which fuels Israeli apartheid and its serious violations of Palestinian rights on the one hand and the climate crisis on the other .
Companies like HD Hyundai, PUMA, AXA and Barclays claim to care about climate justice while also being complicit in apartheid against Palestinians . Climate summits like the upcoming COP28 offer these companies an opportunity to greenwash their crimes while silencing the voices of grassroots democracy.
Read the BNC statement on COP28
These struggles are linked to global grassroots struggles for indigenous land rights, sustainability and against the climate catastrophe caused by corporate greed. Together we oppose the global structures of neoliberalism and colonialism and challenge the severe inequalities these structures create in our communities.
On September 4th we will host a day of action on social media to highlight the ongoing campaigns to expose Israeli greenwashing and bluewashing , including at global summits such as COP28 . Join us to present a united, progressive, grassroots front against oppression and especially against attempts to greenwash oppression everywhere.