Check your Superfund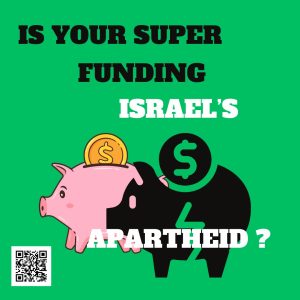 Oppose apartheid? Support justice for Palestinians?
Don't fund your retirement on the dispossession of Palestinians.
Ask your superfund if they invest in companies linked to illegal Israeli settlements.
TAKE ACTION AND CONTACT YOUR SUPER FUND
What's this all about
The crimes against Palestine are obvious to all of us. The violence against Palestinians and dispossession of them from their lands has escalated with the support of the far right apartheid Israeli government. The ongoing murders and systematic apartheid oppression that has spanned many decades, is continuing at pace. The facts speak for themselves as globally recognised non-government organisations have documented these crimes clearly.

No need to dig too deep – just refer to the United Nations, Amnesty International, Human Rights Watch and even the Israeli-based B'Tselem – amongst many others. They consistently site institutional discrimination, forced evictions, home demolitions, excessive force, illegal air/land/sea blockades restricting movement, and unlawful killing. There is no factual dispute here, the evidence is incontrovertible.
The real question is – are you contributing to this crime? There is a powerful tide of awareness rising to bring this genocidal, murderous, apartheid practice to an end. There is no shortage of media organisations, politicians, people of influence, and every day individuals like us that are raising their concern about what's going on and expressing their desire to do something about it.
What can you do practically?
Make sure your money is not invested to support the continuation of this murderous policy. Superannuation is compulsory in Australia – so we all have it. What if your super was invested in corporations that directly contributed towards the support of this indiscriminate murder? It's likely that it is.
Can one member influence how a massive super fund invests its money? The answer is yes, because often investing in such corporations actually breaches the funds own rules. All you need to do is to bring it to their attention and hold them to their own policies. If you jump onto your super fund's website, you'll notice a section that refers to their investment policy; often with the term "responsible investing". This refers to their investment decision criteria focusing on Environmental, Social and Governance (ESG) factors. Any investment and contribution to such corporations contradicts their publicly promoted ideals.
Next steps
Send your super fund a letter and ask the question and bring it to their attention. A couple of minutes of your time may contribute towards the ultimate cessation of these crimes.
TAKE ACTION AND CONTACT YOUR SUPER FUND

SHARE THIS CAMPAIGN WITH YOUR COLLEAGUES AND FRIENDS
Thank you for making the time to take real action for change and for standing up for justice for Palestinians.