BDS Australia news, events and actions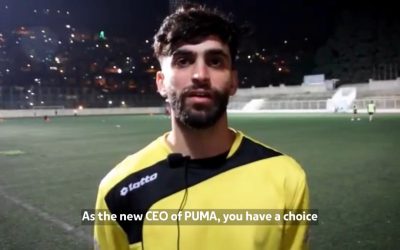 Published by on BDS movement website by Players of Balata Youth Club / January 20, 2023 Palestinian football club Balata, whose player 16-year-old Seed Odeh was shot and killed by Israeli soldiers, calls on new PUMA CEO to end complicity in Israel's brutal apartheid...
The declaration by Amnesty International that Israel is committing the crime of apartheid, in its treatment of Palestinians, must lead to enforcement action by the international community, BDS Australia said today. The AI report, which echoes previous findings by...
The BDS Palestine National Committee and the Palestinian Stop the Wall campaign are calling for global mobilization in solidarity with the Palestinian people in their steadfast resistance against Israel's forced displacement in Jerusalem's neighborhoods...
Photo credit: Aman Kapoor The Sydney Festival boycott over funding from Israel is now Australia's largest and most successful boycott campaign since the anti-apartheid movement against South African apartheid and the Green bans of the 1970s, according to BDS...
Photo/Graceenee TAKE ACTION Tell Sydney Festival 2022 not to take money from apartheid Israel Sign the petition here BDS Australia has written to the Sydney Festival and to the Sydney Dance Company regarding their acceptance of sponsorship by the Israeli government....
August 17, 2021 / By Palestinian Campaign for the Academic and Cultural Boycott of Israel (PACBI) As Palestinians continue to struggle against Israel's illegal land grabs, and companies like Ben & Jerry's pledge to end involvement in illegal...
Australia's defense contracts with Israel have been exposed in this article 'Defence hides Australia's weapon sales to Israel amid war crimes investigation into Palestine' published by Michael West Media and written by Michelle Fahey. The Defence Department...
In July 2021 BDS Australia wrote to the Premier of the Victorian government, Daniel Andrews calling on him to reconsider its support for the Israeli arms manufacturer, Elbit Systems. We will post any response we receive regarding this letter. The Hon. Daniel...
Update: This petition was signed by 21,991 Australians in the limited time it was online (4 weeks) and was presented to the Australian Federal parliament in August 2021. The then Foreign Minister, Senator Marise Payne responded to this petition and her letter is here...
May 26, 2021 BDS Australia wrote to the UTS Vice Chancellor,Professor Attila Brungs and the Vice President (Advancement), Celia Hurley about the UTS series of webinars hosted by the Israeli Technion university and other partnerships UTS has with this institution - see...
Professor Atilla BrungsVice ChancellorUniversity of Technology Sydney Celia HurelyVice President (Advancement)University of Technology Sydney                        ...