BDS Australia news, events and actions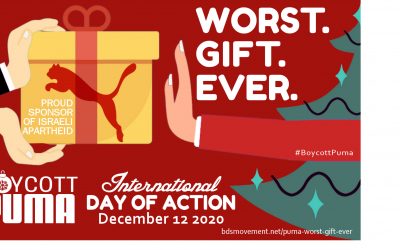 Support the Global Day of Action and Boycott Puma - Worst. Gift. Ever. Israel's far-right government is escalating its expansion of illegal settlements on stolen Palestinian land. At the same time, it is demolishing Palestinian homes in record numbers,...
27 June 2019:  Eminent American-Jewish international legal scholar Emeritus Professor Richard Falk, will be in Sydney next week. Professor Falk is a tireless advocate for the universal application of international human rights law as the basis for a sustainable peace...
EDITOR: Disappointingly the editor of Australian Jewish News has so far refused to publish Professor Falk's point-by-point refutation of the allegations made in AJN last week, so we publish it here: The article starts by reporting 'concerns' over my visit to Australia...
3 June 2019 Dear Xavier We are Australians, some of Palestinian background, some Jewish, and all for universal and equal human rights, who support the Palestinian call for artists, sportspeople, and others to boycott Israel until indigenous Palestinians win...
The Palestinian human rights advocacy organisation, Boycott Divestment and Sanctions Australia, condemns the baseless and unprincipled attacks on candidates who expressed their support for Palestine in the recent federal election. In the lead-up to the election,...
17 May 2019 In recent weeks, BDS Australia and its supporters, particularly in the Australian Greens and the ALP, have been the subject of concerted attacks in the pages of the Murdoch press and the Australian Jewish community media. #BDS is an international...
MEDIA RELEASE 16 May 2019 Prominent Australians join Boycott Divestment and Sanctions (BDS) Australia's calls for a boycott of this weekend's SBS broadcast of Eurovision in Israel Palestinians have asked international viewers not to watch the event this year while the...
MEDIA ALERT: BOYCOTT EUROVISION 2019 PROTEST TOMORROW SATURDAY 11AM AT SBS PURPOSE Supporters of Palestinians' equal human rights will be loudly telling SBS board and management how disappointed they are that Eurovision 2019 – happening in apartheid Israel in 3 weeks'...
11 April 2019 Benjamin Netanyahu is now heading towards his fifth term as Israel's Prime Minister, built on a coalition of far right and extremist politicians. In what has proven a winning strategy, Netanyahu's last minute pre-election statements promising to annex...
Palestinians have a right to resist the Israeli occupation, including the illegal and brutal 11-year blockade of Gaza. The living situation for the 2 million Palestinians in Gaza is terrible and getting worse. We stand in solidarity with the Great March of Return...
Diverse members of the Australian community send a message to SBS, Australia's Special Broadcasting Service, to support the Boycott Divestment Sanctions (BDS) Australia call to cancel this year's Eurovision broadcast from Israel. In many languages these SBS viewers...