BDS Australia news, events and actions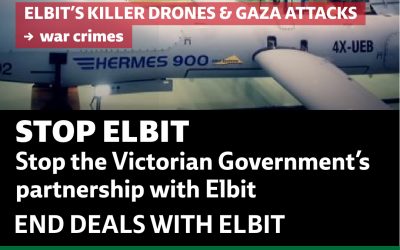 BDS Australia condemns Melbourne's RMIT University partnering with the Israeli arms company, Elbit Systems Elbit Systems of Australia's (ELSA) Centre of Excellence has teamed up with RMIT University and the Victorian Government to develop drone technology for civilian...
In July 2021 BDS Australia wrote to the Premier of the Victorian government, Daniel Andrews calling on him to reconsider its support for the Israeli arms manufacturer, Elbit Systems. We will post any response we receive regarding this letter. The Hon. Daniel...
Update: This petition was signed by 21,991 Australians in the limited time it was online (4 weeks) and was presented to the Australian Federal parliament in August 2021. The then Foreign Minister, Senator Marise Payne responded to this petition and her letter is here...
May 26, 2021 BDS Australia wrote to the UTS Vice Chancellor,Professor Attila Brungs and the Vice President (Advancement), Celia Hurley about the UTS series of webinars hosted by the Israeli Technion university and other partnerships UTS has with this institution - see...
Professor Atilla BrungsVice ChancellorUniversity of Technology Sydney Celia HurelyVice President (Advancement)University of Technology Sydney                        ...
2021 Callout Racism, discrimination, xenophobia, and inequality continue to grow around the world. In recent months, we have seen how people in the Global South and people of color, political prisoners, unhoused people, migrants, and refugees, among many others, have...
On International Women's Day, as Puma launches the "She Moves Us" marketing campaign while supporting Israeli apartheid, Palestinian and international women in sports respond with #SheBoycotts. Today, International Women's Day, Puma is launching "She Moves Us," a...
Dear Professor Bashford, We are academics, researchers and students. We ask you to please reconsider accepting your share of the prestigious 2021 Dan David Prize,[1] the academic award administered by and headquartered at Tel Aviv University (TAU).[2] This year's...
BDS Australia calls on UNSW Laureate Professor Alison Bashford to support Palestinians in their struggle against apartheid by rejecting the Dan David Prize. The 2021 prize, which is administered by Tel Aviv University, rewards contributions to the understanding of...
BDS Australia condemns the Victorian government's recent announcement of a partnership with the major Israeli arms manufacturer Elbit Systems. Elbit produces numerous weapons, including rocket launch systems, super-high explosive projectiles, mortar bombs, armoured...
On Invasion Day 2021, BDS Australia expresses our unequivocal solidarity with Aboriginal and Torres Strait Islander nations. Since 1788, First Nations people have been the objects of relentless colonial violence, first from the British and then from the Australian...