BDS Australia news, events and actions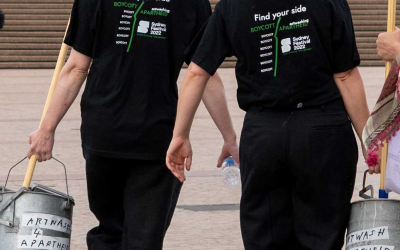 Photo credit: Aman Kapoor The Sydney Festival boycott over funding from Israel is now Australia's largest and most successful boycott campaign since the anti-apartheid movement against South African apartheid and the Green bans of the 1970s, according to BDS...
Dear Professor Bashford, We are academics, researchers and students. We ask you to please reconsider accepting your share of the prestigious 2021 Dan David Prize,[1] the academic award administered by and headquartered at Tel Aviv University (TAU).[2] This year's...
BDS Australia calls on UNSW Laureate Professor Alison Bashford to support Palestinians in their struggle against apartheid by rejecting the Dan David Prize. The 2021 prize, which is administered by Tel Aviv University, rewards contributions to the understanding of...
BDS Australia condemns the Victorian government's recent announcement of a partnership with the major Israeli arms manufacturer Elbit Systems. Elbit produces numerous weapons, including rocket launch systems, super-high explosive projectiles, mortar bombs, armoured...
On Invasion Day 2021, BDS Australia expresses our unequivocal solidarity with Aboriginal and Torres Strait Islander nations. Since 1788, First Nations people have been the objects of relentless colonial violence, first from the British and then from the Australian...
Support the Global Day of Action and Boycott Puma - Worst. Gift. Ever. Israel's far-right government is escalating its expansion of illegal settlements on stolen Palestinian land. At the same time, it is demolishing Palestinian homes in record numbers,...
Take two quick actions HERE to thank Lewis Hamilton for his stand against racism and to urge him to take that stand to Puma over its support for Israeli apartheid that South Africans say is worse than what they endured. Lewis Hamilton, Formula One's first and only...
August 17, 2020 - Palestinian human rights defender and BDS coordinator Mahmoud Nawajaa was released by an Israeli military court, after 19 days of illegal detention without charges. Since his arrest on July 30, the Israeli internal security Shin Bet has failed to...
BDS Australia is pleased to host this important forum featuring Boycott Divestment and Sanctions (BDS) co founder, Omar Barghouti with key First Nations and Palestinian Australian speakers discussing the shared experience of dispossession, state-based discrimination...
"The position of the Australian Government is unprecedented. This kind of direct engagement in an international court process simply does not make sense. Why is Australia going out of its way to hold back an investigation into Palestine?"
The decision by the International Criminal Court's Prosecutor Fatou Bensouda to pursue war crimes investigations into Israel's actions against Palestinians in the Occupied West Bank including East Jerusalem and the Gaza Strip is welcomed by BDS Australia....