Did you know that HP and their spin-off companies
supply Israel with the technology, equipment, and information used to perpetrate human rights violations against Palestinian people?
Don't buy into HP's support for Israel's human rights abuses.

TAKE ACTION HERE to find out more and, in less than 3 minutes, let the Managing Director of HP Australia and NZ know that you pledge to not purchase any HP products until they and all of their associated companies end all participation in the oppression of Palestinian people.

Multinational corporations are major beneficiaries from the Israeli State's illegal occupation of the West Bank, including East Jerusalem, and the illegal and deadly blockade of Gaza. These territories are supposed to form the basis of a Palestinian state, but have been occupied by Israel since 1967. IT giant HP supplies the Israeli state with technology, equipment and information used in its ongoing violations of Palestinians' rights and international law.
HP products are everywhere. However there are many other brands that don't involve oppressing Palestinian people.

So if you want to be part of the global rights movement supporting Palestinian rights and freedoms:

Don't buy HP laptops – Don't buy HP scanners – Don't buy HP printers – Don't buy HP ink cartridges

CONTACT HP NOW and let them know you won't buy HP while HP supports Israel's abuses of human rights and international law.
Download a letter

to send or hand deliver to your local HP retailer and add your own comments as well.
And spread the word that HP and/or its spin-off companies:
provide services and technology to the Israeli army and police that maintain Israel's illegal occupation of the West Bank and East Jerusalem since 1967 and the siege of Gaza.
maintain Israel's central ID system and data base for the Israeli police, used to enforce a system of racial segregation and apartheid against Palestinian citizens of Israel.
support Israel's colonisation by maintaining information on Israeli citizens in illegal settlements in the occupied Palestinian West Bank.
operate a research and development centre in the illegal Israeli settlement of Beitar Illit in the occupied West Bank.
BDS Australia calls on HP (HP Inc., Hewlett Packard Enterprise and DXC Technology)to cancel all contracts that supply the Israeli state with the means — technology, equipment, and expertise — to violate the basic human rights of Palestinians and break international law.
Social justice groups around the world have been trying for years to discuss these issues with HP, but so far we have been unsuccessful in getting their attention. With your help we can change this.
CONTACT HP and let them know you won't buy HP while HP supports Israel's abuses of human rights and international law.
I/We pledge not to purchase HP products – including laptops, scanners, printers and ink cartridges – and I/we call on retailers, universities, schools, faith communities, community organisations, investment funds, local councils, governments, trade unions, and other institutions to boycott HP products and divest from HP companies until they cancel all contracts that supply Israel with technology, equipment, and information used in its ongoing violations of Palestinians' human rights and international law.
---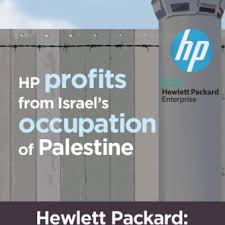 HP in its previous avatar, and HP-branded corporations today are directly implicated in and profit from Israel's apartheid, colonization and illegal occupation against the Palestinian people.
HP Inc:
HP won the contract to be the exclusive provider of personal computers (PCs) to Israeli military and other security forces in
2009. The contract was renewed in 2014, through to 2019. Since all of HP's activities pertaining to consumer hardware went to HP Inc, this contract with the Israeli military and security forces went to it too. These computers are used by Israeli forces
within the context of ongoing war crimes and other serious violations of Palestinian rights.
HP Enterprises:
HPE is contracted by Israel's Population and Immigration Authority to provide and maintain the Itanium servers that
house Israel's population registry through 2020. Known as the Aviv System, this population registry is the basis of Israel's
ID card system, which in turn forms a core part of the Israeli apartheid regime's tiered system of citizenship and residency
that privileges Israel's Jewish population and gives inferior status and rights to Palestinians, especially those in occupied
East Jerusalem.
This leads to institutionalized racial discrimination and segregation in freedom of movement, housing, employment,
marriage, healthcare, education, and policing. This discrimination is further exacerbated in the case of Palestinian
"residents" in East Jerusalem, whose most basic rights can and are being revoked arbitrarily. The system also holds
information about Israeli citizens living in illegal settlements in the occupied West Bank, therefore serving Israel's settler
colonial project directly. HPE's spin-off DXC Technology runs an R&D facility in the illegal settlement of Beitar Illit.
DXC Technology:
A new company that launched in 2017 as the merger of the Enterprise Services segment of the historic Hewlett-Packard Company with the Computer Sciences Corporation (CSC). It focuses on outsourced IT services and the design and implementation of custom-made IT platforms for institutional clients such as government agencies and big corporations.

In the past, Hewlett Packard has maintained gravely complicit contracts with Israel. HP has provided information systems to the Israel Prison Service (IPS), which included prisoner records and intelligence system. IPS is in charge of all incarcerated persons under Israel's control, including Palestinian political prisoners, children and those under administrative detention
(imprisoned without charge or due process).

Basel System: Until 2016, HP was contracted to maintain the Basel system for Israel Ministry of Defence. This biometric
access system, installed at military checkpoints, is key to Israel's occupation machinery. Along with its discriminatory
permit rules, these checkpoints are sites of humiliation and human rights violations against Palestinians on a daily basis.

HP was contracted by the Israeli Navy to provide IT infrastructure. The same force maintains the illegal blockade of Gaza, the largest open-air prison in the world. The blockade is pushing Gaza towards becoming uninhabitable by 2020. HP has been complicit in this war crime.
Contact HP now and let them know you won't buy HP while HP supports Israel's abuses of human rights and international law.
Contact us at BDS Australia for Boycott HP stickers.