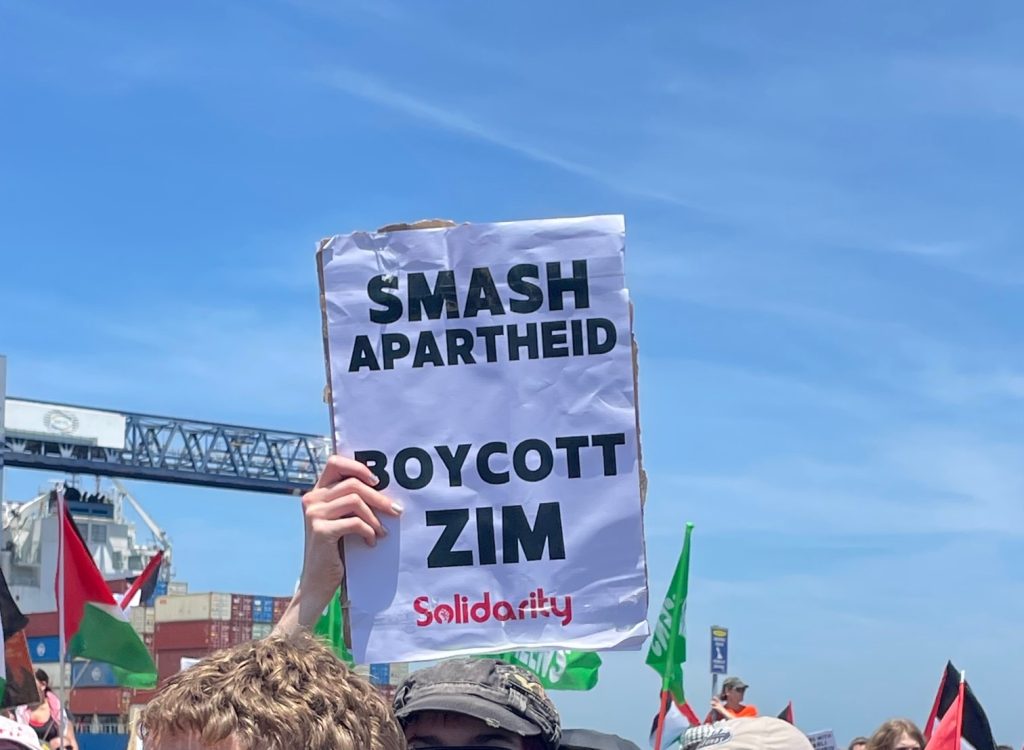 This Resolution was resoundingly passed at the November 11, Port Botany protest in Sydney.
For generations, Palestinians have been crushed by apartheid Israel and have courageously resisted. Now they are undergoing a genocidal assault in Gaza.
We will not stand by in silence.
Palestinians have called for us to support the boycott, divestment and sanctions campaign to challenge Israel's power. We commit to answering that call.
The ZIM shipping line is a major supporter of Israel and of the Israeli Defence Forces. ZIM ships regularly visit Port Botany.
As working people, union members and community supporters we stand against war, apartheid and colonisation wherever it occurs.
There can be no pride in genocide, either in Palestine or here in Australia. Here, that means standing against ZIM.
Today we have come in numbers to show the strength and determination of our movement. We are many, and we are powerful.
We resolve to be here again as soon as we know a ZIM ship has docked. We commit to following the proud tradition of action for justice, peace and equality taken by workers around the world against the bloody forces of war, colonisation and racism, and we undertake to do everything to make that action as strong and powerful as possible.
We will fight to win our demands – no ZIM ships in Port Botany while Israel is carrying out a genocide!
Long live Palestine.
Endorsed by:
Palestine Justice Movement Sydney
Australian Unionists for Palestine
MUA Sydney Branch