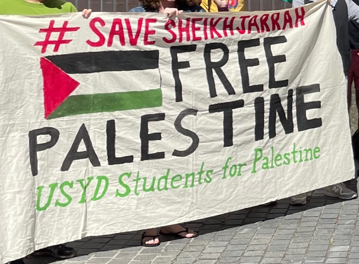 Sydney University's Students Representative Council backs BDS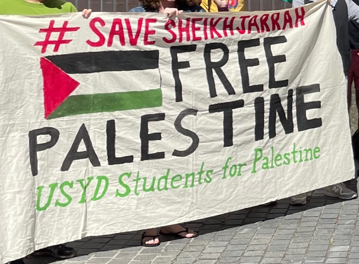 After supporting justice for Palestinians for many years, the University of Sydney SRC has reaffirmed its solidarity with its latest vote on active solidarity to Palestine and support for BDS. This stand shows how strong the student movement for BDS is in Australia with one of Australia's largest universities following on from Melbourne University's BDS support last year, despite coordinated attacks by the Zionist lobby in Australia.
The USYD SRC position includes recognition that Palestinians are living under an apartheid state, opposes the universities' institutional support for the IHRA definition of antisemitism because it conflates criticism of Israel with antisemitism, and rejects normalisation with the state of Israel.
We congratulate the University of Sydney SRC on their powerful stand.
Text of the USYD SRC motion
Platform:
The University of Sydney Students' Representative Council recognises the complicity of universities across the globe in violations against indigenous peoples.
The University of Sydney Students' Representative Council stands in solidarity with the Palestinian people living under an Apartheid state.
The University of Sydney Students' Representative Council supports the BDS movement in their calls for boycott, divestment and sanctions to achieve freedom, justice and equality for Palestinians.
The University of Sydney Students' Representative Council rejects attempts to collapse Judaism and Zionism and reaffirms its position that anti-Zionism is anti-racism.
The University of Sydney Students' Representative Council opposes the institutional adoption of the IHRA working definition of Antisemitism as it has been used to silence and discipline pro-Palestinian advocacy and activism.
The University of Sydney Students' Representative Council rejects normalisation with the State of Israel.
The University of Sydney Students' Representative Council will:
Encourage and support SRC councillors to engage in boycott, divestment and sanctions (BDS) actions that seek to end the occupation of Palestine and bring about justice, freedom and equality for Palestinians.
Boycott purchasing future Hewlett-Packard (HP) products, including printers and computers in the SRC and implementing a long term strategy to replace all current HP products.
Designate the University of Sydney Students Representative Council an official Apartheid-free zone.
Campaign against the University of Sydney developing or maintaining ties with organisations, companies and tertiary and/or government funded institutions that support/are supported by/are funded by the State of Israel.
Write a letter to the University of Sydney Vice-Chancellor to:

Condemn the reference to the IHRA definition as a 'useful tool to understanding antisemitism' in its new anti-racism statement and request them to remove it from the references.
Express the rejection of University ties with the state of Israel, including the new OLE unit titled 'Experience Israel'.
Preamble:
University institutions are complicit in human rights violations against indigenous peoples across the globe, from here on Gadigal land, to Palestine. Violations can range from support and normalisation of the colonial state, discriminatory admittance policies, like systematically preventing racialised groups to attend university, but also through indoctrination and misinformation. Universities have a lot to answer for, and student unions have a duty to fight this fight and hold their universities accountable.
As a settler-colony, Israel has created various systems and structures to take over Palestinian land: a military occupation to suppress resistance, ethnic cleansing to achieve demographic targets and land theft, and an apartheid system of governance to give privileges to one people while denying the rights of others.
Palestinians have called for non-violent global solidarity action in the form of boycott, divestment, and sanctions upon the State of Israel, until it recognises the rights of Palestinian people to self-determination and fully complies with international law. As a student union, we must stand on the right side of history and demand justice and an immediate end to the oppression of Palestinians by the State of Israel. Palestinians have told us what they seek from us in global solidarity: boycott, divestment and sanctions; boycotts of institutions complicit in the settler-colonial project, divestment from corporations which profit from the injustice and calling for sanctions on the Apartheid state until it complies with international law.
The Australian government proudly proclaimed their support for the boycott movement against Apartheid South Africa – so why won't Australia support a BDS movement against Apartheid Israel? It's been made clear time and time again that there are double standards which apply to Palestinian right to freedom and self-determination. These double standards are deeply rooted in islamophobia, anti-Arab racism and Western imperialist interests.
In an attempt to silence criticism of Israel and intervene in grassroots mobilisation for Palestinian liberation, Zionist lobby groups have been pressuring universities to adopt the International Holocaust Remembrance Alliance (IHRA) working definition of antisemitism, in which 7 of its 11 examples of conduct said to constitute antisemitism directly refer to conduct regarding Israel. Particularly problematic is the example alleging that it is antisemitic to deny "the Jewish people their right to self-determination, e.g., by claiming the existence of the State of Israel is a racist endeavour". This working definition has been used to suppress advocacy for Palestinian rights (for example, at universities).