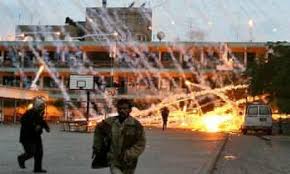 BDS Australia condemns the Victorian government's recent announcement of a partnership with the major Israeli arms manufacturer Elbit Systems. Elbit produces numerous weapons, including rocket launch systems, super-high explosive projectiles, mortar bombs, armoured vehicles and drones and is a key research and development partner to the Israeli Ministry of Defense.
Elbit surveillance technology and military equipment is used to maintain Israel's illegal occupation of the West Bank and blockade of the Gaza Strip. Elbit markets its weapons systems, including its drones, as "battle-proven". This means that they have been deployed against Palestinians living under Israel's deadly military occupation.
BDS Australia calls on the Victorian government to abandon any association with Elbit. In partnering with Elbit, the Andrews government is showing its contempt for international law and human rights conventions. With this deal, the Victorian Labor government under Premier Dan Andrews is collaborating with a government which has been shown to be practicing apartheid and which has been continually condemned in the UN and internationally for its ongoing breaches of human rights and international law.
Elbit is increasingly targeted by protesters worldwide as major companies and organisations divest and dissociate from it.
In 2017 the Royal Flying Doctor Service rejected Elbit's tender for flight training equipment following a campaign by Palestinian supporters, including BDS Australia.
In 2018 both HSBC and AXA Investment Managers divested from Elbit due to its involvement in the production and commercialization of cluster munitions and white phosphorus shells. In 2020, the City of Liverpool in the UK cancelled the Elbit-sponsored Electronic Warfare Europe arms fair on ethical grounds after a campaign of 40,000 emails protesting at the city's involvement. The 2021 arms fair in Seville, Spain, was cancelled by the Seville City Council, also on ethical grounds.
The Andrews government must reconsider this partnership now. Australians don't want to support a company which profits by selling technology and armaments that destroy civilian communities and support the ongoing colonisation and dispossession of Palestinians. Victoria's economic growth should not come at the expense of Palestinian lives.
BDS Australia condemns the development of an arms industry in collaboration with Elbit Systems Australia in Victoria and calls on all Australians to oppose and take action to end this partnership.
Further information:
Media release 02/02/2021 – Victorian Premier – Global Investor Elbit To Establish Melbourne Centre
The Guardian 28/01/2021 – Christopher Pyne's firm hired by defence contractor awarded $98m in government work while he was Minister
Contact: