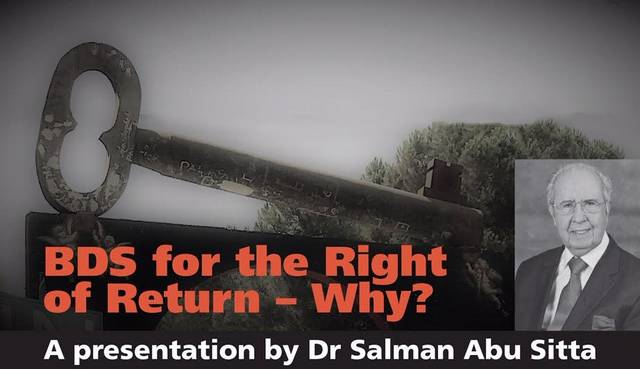 A presentation by the renowned Palestinian writer, scholar and commentator, Dr Abu Sitta in Sydney whose work has meticulously documented the Palestinian Nakba.
What: BDS for the Right of Return – Why?
When: Wednesday October 9, 6.45pm-8pm
Where: Redfern Town Hall.
GET TICKETS NOW HERE
Full price – $10
Concession – $7
Dr Abu Sitta is an author, scholar and commentator.  He has meticulously documented the Palestinian Nakba (catastrophe).  No-one can speak more authoritatively than he on that momentous event's impact on the Palestinian people, nor on how to remedy the more than 70 years of the dispossession of their lands and the loss of their rights to self-determination and freedom.
Salman Abu Sitta was born in Palestine in 1937, not far from Beersheba.  As a schoolboy when Israel was established in 1948, he was forced, with his family, to move from home to the Gaza Strip.  He was educated in Palestine, Cairo and (at university) in London. Abu Sitta is a former member of the Palestinian National Council, the general coordinator of the Right of Return Congress. Abu Sitta is also the founder and President of the Palestine Land Society, London, dedicated to the documentation of Palestine's land and people. Website www.plands.org.
He is the author of six books on Palestine including the compendium Atlas of Palestine 1917- 1966, English and Arabic editions, the Atlas of the Return Journey in Arabic, English and Hebrew and over 300 papers and articles on the Palestinian refugees, the Right of Return, history of al Nakba and human rights.
His most well known book is the "Mapping my Return: A Palestinian Memoir" which had strong reviews internationally. Dr Abu Sitta is active in many academic, legal and human rights groups.