August 17, 2020 – Palestinian human rights defender and BDS coordinator Mahmoud Nawajaa was released by an Israeli military court, after 19 days of illegal detention without charges. Since his arrest on July 30, the Israeli internal security Shin Bet has failed to present any formal charges against him. 
Nawajaa praised his supporters after his release: "Pressure works. Sustained global pressure works even better. I am deeply grateful to all of those who pressured apartheid Israel to release me. From Europe and the Arab world, to Southern Africa, Latin America, North America and Asia, your solidarity gave me strength and kept alive my hope to be reunified with my loving family and my inspiring wider BDS family." He also thanked Palestinian and human rights organizations. (bdsmovement.net, Aug. 17)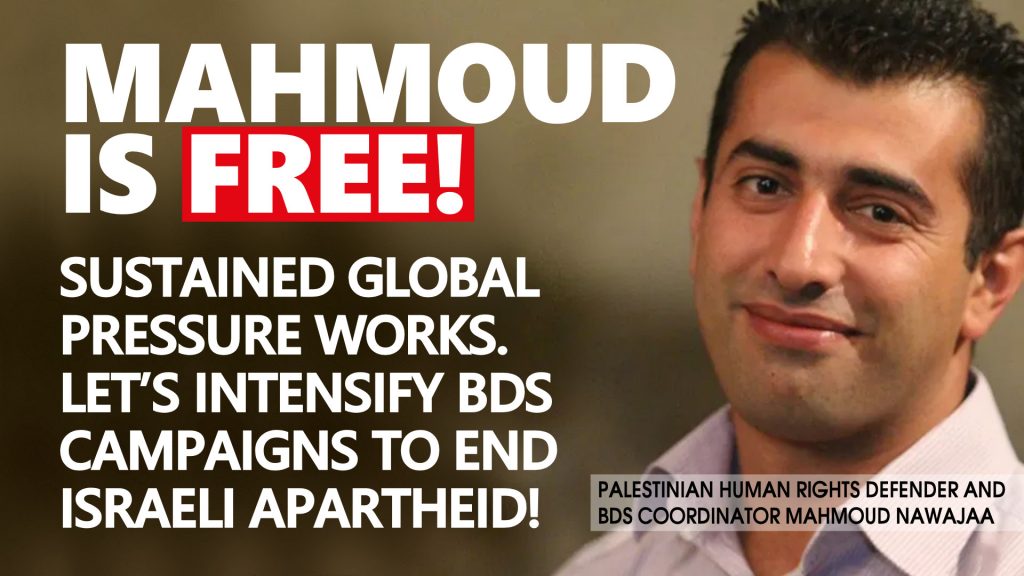 July 30, 2020 – In Ramallah and Gaza, more than 150 representatives of Palestinian trade unions, women's associations, political parties and BDS supporters rallied Tuesday in front of the representative offices of Germany, which currently holds the EU presidency, to demand EU pressure on Israel to set Mahmoud Nawajaa free. 
Share the BDS Twitter campaign here
Nawajaa, the General Coordinator of the Palestinian National BDS Committee, was arrested by Israeli soldiers in the middle of the night from his home in the central occupied West Bank district of Ramallah on July 30th.
The decision to extend his detention was made in an Israeli military court in Jenin on August 2nd, upon request from Israel's internal security agency, the Shin Bet.
According to the BDS movement, the Shin Bet declined to present any charges or evidence that they have against Nawajaa with him or his lawyer — a common practice used by Israeli officials who routinely cite unnamed "security reasons" to justify the detention of Palestinian political activists.
Majida Masri, coordinator of the Palestinian Women's Campaign for Boycotting Israeli Products, spoke for the BDS movement saying:
"We are rallying here to demand that the EU end its complicity of silence and apply concrete pressure on Israel to release Mahmoud Nawajaa and respect the rights of Palestinian human rights defenders. Israel is bowing to our pressure, so we must intensify it to #FreeMahmoud.

"Being Israel's largest trade partner, and given its decades of complicity in enabling Israel's regime of occupation, settler-colonialism and apartheid, the EU has legal and moral obligations to act to end Israel's war crimes and crimes against humanity."
1. Let's amplify their message and tell EU Foreign Affairs chief Josep Borrell that continued EU inaction amounts to outright complicity:
TAKE ACTION: TWITTER
Tell EU foreign affairs chief @JosepBorrellF and @UNHumanRights head @mbachelet they must demand that Israel #FreeMahmoud now! https://bdsmovement.net/un-eu-freemahmoud
Help us send an equally determined message to the UN Human Rights chief Michelle Bachelet, urging her to denounce Israel's persecution of Palestinian human rights defenders, like Mahmoud.
2. Tell the UN it must act to defend Palestinian human rights defenders. Period.
@mbachelet: Help stop Israel's persecution of Palestinian human rights defenders like Mahmoud Nawajaa, who peacefully resist apartheid.
@UNHumanRights must demand that Israel #FreeMahmoud and all political prisoners now. https://bdsmovement.net/un-eu-freemahmoud pic.twitter.com/tdoVhuCST4
Share the BDS Twitter campaign here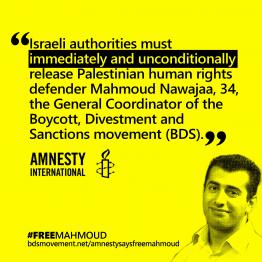 In their call for Israel to "immediately and unconditionally release Mahmoud, Amnesty International said:
Advocating for boycotts, divestment and sanctions is a form of non-violent advocacy and of free expression that must be protected. Advocates of boycotts should be allowed to express their views freely and take forward their campaigns without harassment, threats of prosecution or criminalization.