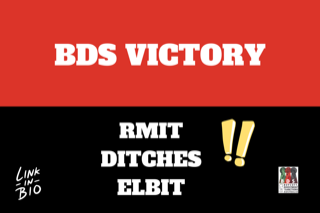 MEDIA RELEASE
7 November 2023 – for immediate release
ACTIVISTS CLAIM VICTORY AS RMIT ENDS ELBIT PARTNERSHIP
Activists are celebrating the announcement by RMIT that it has ceased its research partnership with Israel's largest weapons manufacturer Elbit Systems, which develops, tests, and provides weapons and drones to the Israeli military for use against Palestinians.
This victory comes just over a year after RMIT was targeted by BDS Australia due to its advertised partnership with Elbit Systems in the development of AI systems. In 2022, Palestine's largest academic and tertiary union (PFUUPE), representing over 6,000 academics and staff, wrote to RMIT and urged it to suspend all collaboration with Elbit Systems. Subsequently staff and students held on-campus protests and speak-outs. RMIT did not respond to any of these representations nor to the large online petition with 2000+ signatures calling for an end to all ties with Elbit Systems.
Throughout 2023, two Melbourne activists, Shane McCartin and Mark Bradbeer, took the campaign to RMIT's doorstep and for 8 and a half months picketed each week outside the campus. They were joined by members of Free Palestine Melbourne and Students for Palestine (Victoria) distributing information about the use of Elbit technologies in war crimes against Palestinian civilians and calling for an end to RMIT's complicity with these crimes.
"At first, many students and staff we spoke to knew nothing about Elbit Systems or its relationship with RMIT," said Mark Bradbeer. "It was slow work but our support grew steadily as people learned of the partnership."
The campaign received a boost in July when high profile journalist and author Antony Loewenstein denounced the RMIT-Elbit partnership,
"If you partner, as a state or a university, with a company like Elbit, you have blood on your hands because the record of Elbit in Israel-Palestine, on the US-Mexican border and elsewhere is so damned clear", said Lowenstein. "So RMIT needs to answer very serious questions about it, and actually feel pressure about that – a lot of pressure."
On 19 October 80 activists associated with Students for Palestine (Victoria) marched on the RMIT campus denouncing the university for its complicity in ongoing Israeli atrocities in the Gaza Strip.
In response to this protest, RMIT released a statement that it no longer has any partnerships with Elbit Systems or Elbit Systems of Australia. When clarification was sought, RMIT confirmed that their planned partnership with Elbit Systems was terminated, and that they have no relationship with the company or any of its subsidiaries.
"This is a significant victory for the Boycott, Divestment and Sanctions movement in Australia," said Hilmi Dabbagh, from BDS Australia, which partnered with Free Palestine Melbourne throughout the campaign. "Australian universities have been put on notice that they will be targeted if they partner with any Israeli company or institution complicit in human rights abuses and attacks on Palestinians."